I definitely feel blessed to have the best job and clients in the world! I'm passionate about what I can do to help others and learning more to sharpen my skills and increase my catalogue of services.
In 2012 I completed my Diploma of Remedial Massage, Diploma of Aromatherapy and Cert IVs in Massage, Aromatherapy and Book Keeping (who needs a life right?).
In May of 2012 I began with Denese Mentor Remedial Massage and I was with Denese until the beginning of 2018 (best boss ever!).
At the beginning of 2018 I moved to my current location in Middle Ridge and I currently work from the front room of my house. I have quite a diverse range of clients and focus my specialisation on injury management, rehabilitation and sports.
Since my graduation in 2012, I have completed a minimum of 20 hours professional development every year, usually studying various workshops. Though some years I go nuts and spend closer to 70-100 hours studying.
These include workshops in:
Muscle Energy Technique (MET)
Neurostructual Integration Technique (NST – a form of bowen which I don't use as much anymore except on the jaw)
Onsen (structural and functional assessments of the muscles and skeletal system)
Cyriax Friction (for sporting injuries – again I don't use this one as much any more… it can be mean haha)
Advanced Sports and Clinical Taping
Traditional Flame Cupping (though I don't use fire in my clinic)
In 2018 I completed my advanced certification for Dry Needling, spending over 80 hours with CPD Health Courses. In 2019 I completed the Master Class level of Dry Needling Training.
I am still in contact with my teacher Dr Wayne Mahmoud (Osteopath) through the CPD Membership website and I can ask him questions and watch him treat various conditions using a range of techniques.
I am currently studying a Diploma of Musculoskeletal Therapy through the Academy of Integrated Therapies and should complete that by the end of 2019.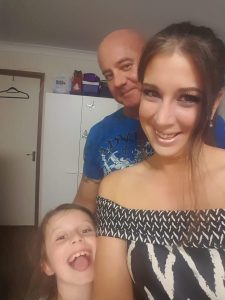 Other than that on a personal level I'm a home body and clearly a nerd. I have a 9 year old daughter Gabby and my wonderful fiance David.
I've just started Yoga and I'm learning Powerlifting. I'm super proud I've managed to keep my front garden alive (it's my first time not killing my plants).
I look forward to meeting you!