I definitely feel blessed to have the best job, co-workers and clients in the world! I'm passionate about what I can do to help others and learning more to sharpen my skills and increase my catalogue of services.
In 2012 I completed my Diploma of Remedial Massage, Diploma of Aromatherapy and Cert IVs in Massage, Aromatherapy and Book Keeping (who needs a life right?).
In May of 2012 I began with Denese Mentor Remedial Massage and I've been with Denese since (she just turned 70 – she's awesome stock!). I meet new clients everyday, but I am blessed to have some who have been seeing me the full 5 years I have been a therapist.
Since my graduation in 2012, I have completed a minimum of 20 hours professional development every year, usually studying various workshops (actually I did closer to 70 hours in 2015 when I studied Onsen + Cyrax Friction…. as well as I was studying Psychology at the time too… that sounds nuts when I write it down!).
These include workshops in:
Muscle Energy Technique (MET)
Neurostructual Integration Technique (NST – a form of bowen which I don't use as much anymore except on the jaw)
Onsen (structural and functional assessments of the muscles and skeletal system – I am creating a new service with this training that I am excited to be bring you soon!)
Cyriax Friction (for sporting injuries – again I don't use this one as much any more… it can be mean haha)
Sports Taping (I'm doing this at the End of August 2017)
And I look forward to expanding more into Kinesiology (muscle testing), foot mobilisation techniques, Myotherapy and so forth in the coming years.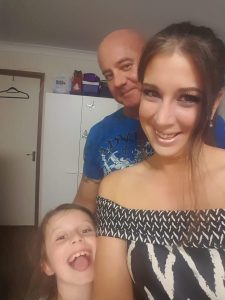 Other than that on a personal level I'm a home body and clearly a nerd. I have a (nearly) 8 year old daughter and my wonderful partner David. My hobbies are based around fitness, reading and healthy eating (or icecream – I can't pick). I have a personal development blog as well (Women Seeking Wisdom) and I just enjoy being with my family.